Since Landsec took over the management of the complex, we've developed it from a one-dimensional outlet retail centre to a community hub with leisure facilities – all geared towards people looking for an enjoyable day out.
This is down to some small but significant changes we've introduced.
Uniquely positioned
One thing that won't change is The Galleria's location. It sits atop the Hatfield tunnel, spanning the A1 motorway, and is clearly visible from the motorway below. The centre is also just six miles north of the M25 and has parking for 1,700 cars, making it readily accessible.
Constructed in 1991, the all-glass building was intentionally designed in the shape of an aircraft hangar to celebrate Hatfield's aeronautic history.
The site was previously part of the renowned Hatfield Aerodrome, which was home to De Havilland, Hawker Siddeley and later British Aerospace. The companies were responsible for aviation breakthroughs that included the Comet – the world's first commercial jetliner. 
Transformation into a destination
Since then, it's been soaring in other ways – thanks to the ongoing improvements we've made to the already successful outlet centre.
Our aim was to diversify the offer to families wanting more than just great brands.
One of the most significant additions has been Get Wild!, a giant indoor children's play area. Its jungle theme and assortment of slides, tunnels, rope walks and climbing frames have proved very popular with kids, and there is also space nearby so that mums and dads can relax.
There's a Sega Prize Zone amusement arcade, a newly-opened Roller Rink and The Creation Station, which offers award-winning arts and crafts classes. We've added all of this over the last decade and it has contributed to the growth of The Galleria's catchment area. 
Working for the community
We've focused on the immediate community too. Hatfield lacks a traditional high street, so The Galleria acts as a de facto town centre as well as a natural meeting hub for University of Hertfordshire students and workers based at the nearby Hatfield Business Park.
The free space we've introduced for charitable and not-for-profit causes, particularly local ones, has been well received, helped heighten awareness and raised all-important funds. Recent initiatives have included a Dragons' Apprentice Challenge, and an annual event linking local students with local businesses. 
There's also the Alliance to Reward Initiatives and Social Enterprise (ARISE), which Landsec originally founded in Leeds in 2005. The alliance provides funding for local community groups and initiatives across a range of sectors including culture, sport, childcare and enterprise. 
We are really proud to be part of such a worthwhile initiative and are especially excited to see how funds from ARISE will make a real difference in the local community. Given the sectors that ARISE will support, we are confident that this initiative will be a real identifiable benefit to most walks of life in Hatfield."

The Galleria Centre Director, Landsec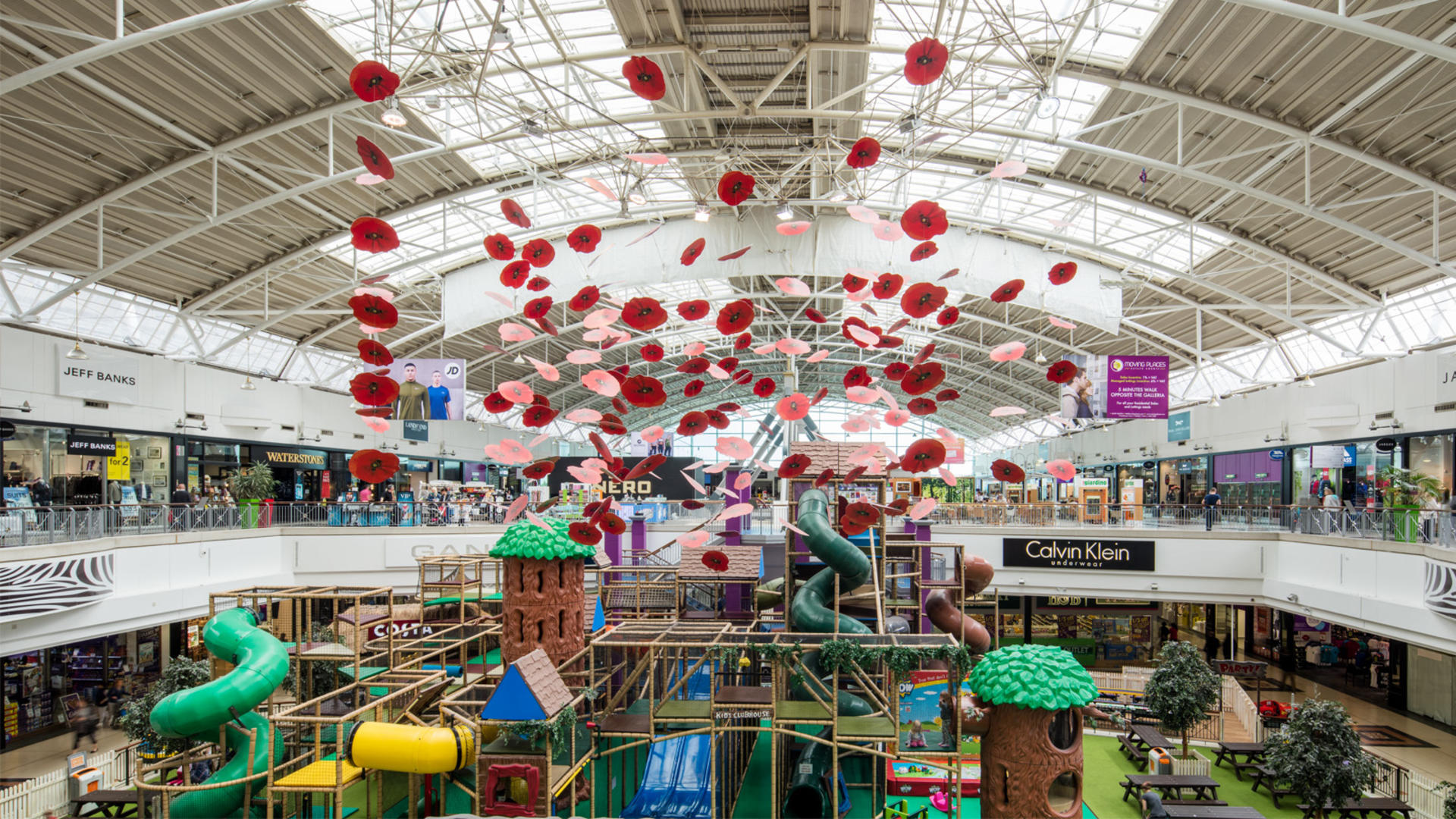 A well-known home for well-known brands
Over 80 retail outlets are located within The Galleria. We've added world-leading brands such as Nike and Gap to an already attractive mix that includes perennial favourites such as Jaeger, Calvin Klein and Gant.
It also incorporates nine restaurants and cafes, from family-friendly outlets to specialist cuisine, while the nine-screen Odeon cinema is another reason the centre is so popular with families. 
Lots of places to get a cup of tea/coffee and cake, and chat the hours away. Some really good quality shops to browse and gifts to buy. Restaurants and cinemas are a huge bonus too."
Unmissable, in more ways than one
The Galleria occupies an important place in the lives of Hatfield locals, who have long lacked a high street to call their own, as well as a growing number of visitors from further afield.
With great brands and leisure activities for all the family, it really is somewhere to watch out for – and not just when you're passing underneath it on the A1 motorway. 
311,000sq ft
311,438sq ft Retail
£15m to £50m
Market value range