At Landsec, we believe no one should be defined by their background or by any barriers they face.
Creating social value 
Our ambition is to create opportunities for people in our local communities through our social sustainability programmes, ensuring we have a diverse industry with the skills we need, both now and in the future.
Our four programmes – community employment, education, charity partnerships and volunteering – have been developed to deliver on this ambition. From supporting people furthest from the job market into employment, to inspiring young people, to empowering our employees to make a difference, our programmes allow us to engage our workforce, customers and the property industry as a whole to have a meaningful impact.
That's why we're measuring the social value we generate through our programmes. This allows us to quantify the positive impact we're having and target our work to where we can make the biggest difference. Last year we published Our Social Contribution, a report that outlined where we are creating the most social value. Using these insights, we continue to focus on groups including young people from diverse socio-economic backgrounds, prisoners and ex-offenders, and people experiencing homelessness.
Working with The Social Value Portal and our community partners, we're aiming for an ambitious target of generating £25m of social value through our programmes by 2025. In the last financial year we created over £4.8m of social value, outperforming our in-year target of £4m. You can read more about our recent social value performance in our 2020 update report.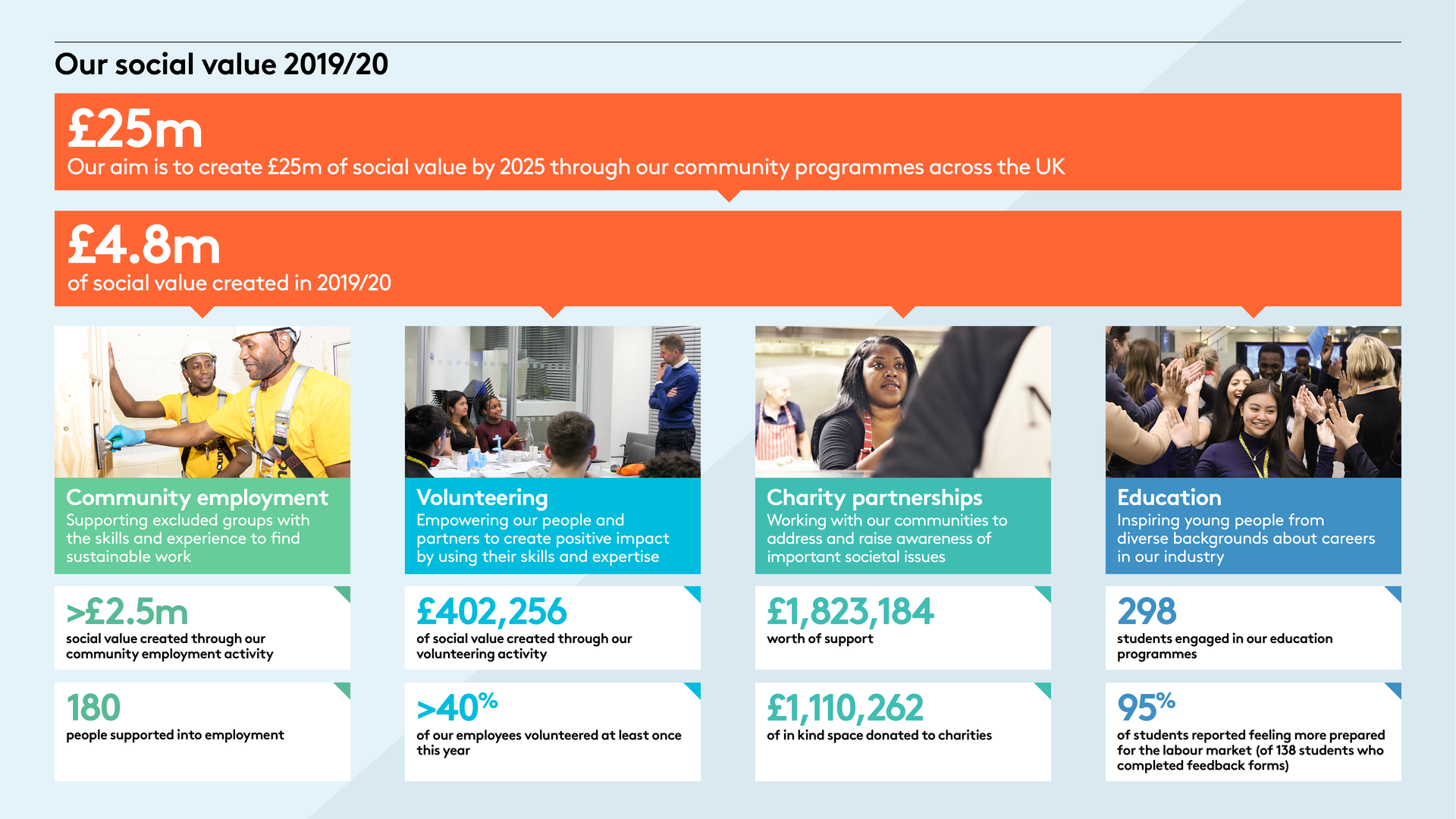 Our community response to Covid-19 
In response to the Covid-19 pandemic, we've been working closely with our community partners across the UK to support them, both in the initial emergency period, and in planning to help them beyond the crisis. This has helped our charity partners provide immediate support to people facing huge challenges in our local communities. These include individuals experiencing homelessness, families in poverty, people facing job insecurity and vulnerable individuals in isolation. Our support is helping to ensure our partners can continue their services in the coming months, which will see significantly increased demand beyond Covid-19.
As we adapt many of our community employment and education progress to run remotely, we're engaging our employees to support through 'virtual volunteering'. We know business have an important role to play through this crisis and our social sustainability programmes have become more important than ever, to make sure continue to support some of the most vulnerable and excluded groups in our society.
We were a founding supporter of LandAid's Covid-19 appeal, which united the property industry in providing emergency grants to grass-roots charities that support young people experiencing homelessness across the UK. The fund has helped many charities to provide basic necessities for vulnerable young people, including food, accommodation, bill payments and mental health support. Our employees are also providing pro- bono business support to charities through LandAid, to help them through this challenging time.
As well as supporting our existing community partners, we've also been working with the NHS at a local level, to help the remarkable people at the front line of fighting Covid-19. We've used our spaces to provide free car parking for NHS staff and other key workers, as well as for mobile blood banks to ease pressure on hospitals.