At Landsec, we believe no one should be defined by their background or by any barriers they face.
Creating social value 
Our ambition is to create opportunities for people in our local communities through our social sustainability programmes, ensuring we have a diverse industry with the skills we need, both now and in the future.
Our four programmes – community employment, education, charity partnerships and volunteering – have been developed to deliver on this ambition. From supporting people furthest from the job market into employment, to inspiring young people, to empowering our employees to make a difference, our programmes allow us to engage our workforce, customers and the property industry as a whole to have a meaningful impact.
That's why we're measuring the social value we generate through our programmes. Social value is a way to describe the positive outcomes generated by businesses to benefit people, communities and society as a whole. This allows us to quantify the positive impact we're having and target our work to where we can make the biggest difference. Last year we published Our Social Contribution, a report that outlined where we are creating the most social value. Using these insights, we continue to focus on groups including young people from diverse socio-economic backgrounds, prisoners and ex-offenders, and people experiencing homelessness.
Working with The Social Value Portal and our community partners, we're aiming for an ambitious target of generating £25m of social value through our programmes by 2025. In the last financial year we created over £6.5m of social value, with over £11m of social value created since commitment launched in 2019/20.
This year, despite the challenges of Covid-19, our charity partners around the UK have continued to provide exceptional support for our communities. We've continued to focus our investments on where we can have the greatest impact. Whether supporting people in finding work, offering career coaching to young people under-represented in the property sector, or opening up our spaces for charities to use, we want our impact to be targeted and sustainable.
For more information about how we measure social value, please see our 2021 Sustainability Performance and Data Report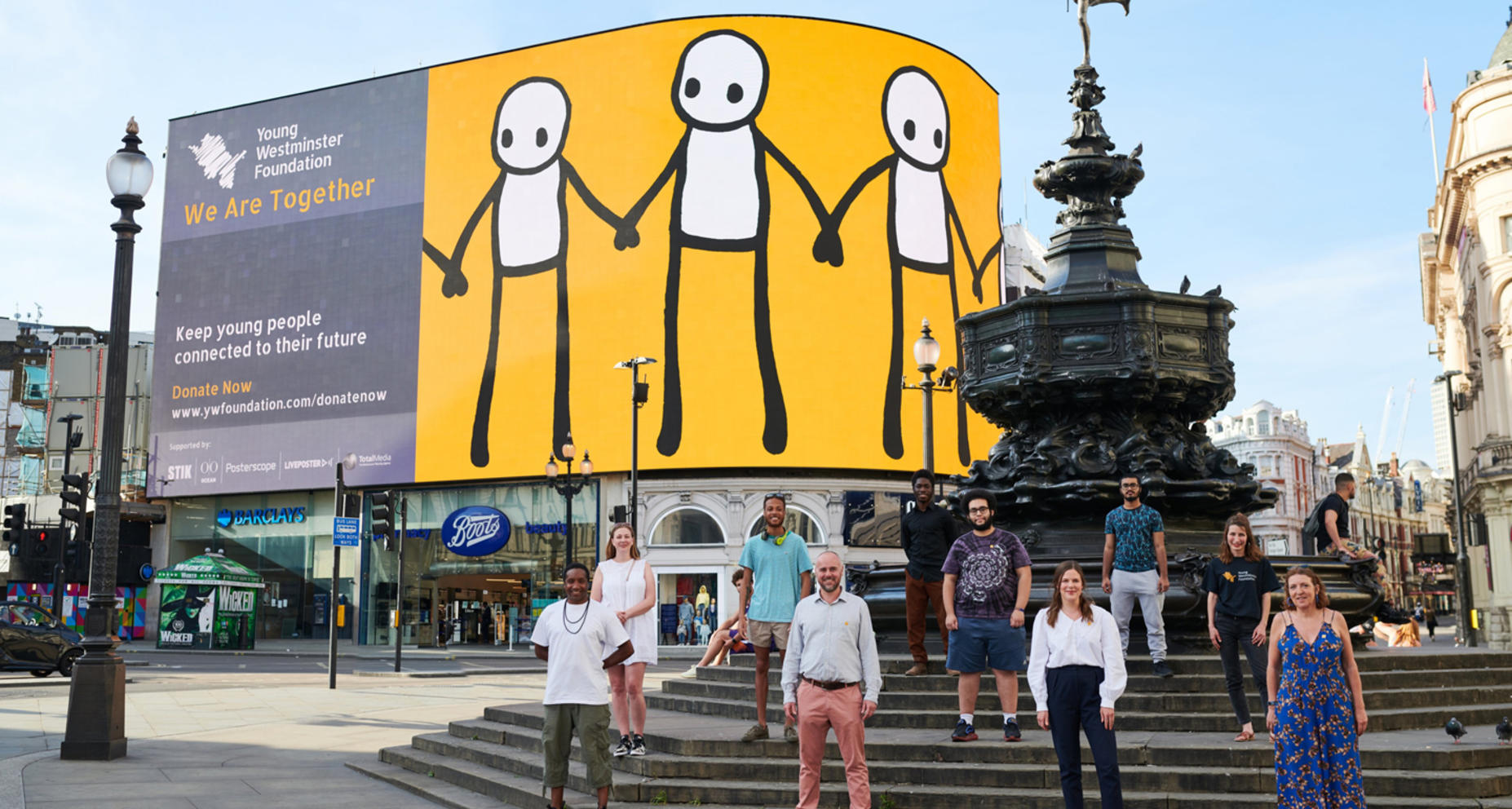 Our community response to Covid-19 
Within communities around the UK, the pandemic has disproportionately affected particular groups in society, with issues like poverty, unemployment, mental health and social inequality increasing. Our longstanding charity partners have experienced a huge increase in demand for their support.
Given the impacts of Covid-19, businesses like ours have a heightened responsibility to make a meaningful commitment to long-term social sustainability in their communities. For us, this has meant increasing our focus on supporting those facing barriers including young people,
prison leavers, and people experiencing homelessness and long-term unemployment – all areas we know will need continued support after the pandemic. We set up a Covid-19 community support fund to provide both immediate and long-term assistance to our charity partners. To date, this fund has given over £500,000 of financial support to the charities we work closely with, who do incredible work supporting vulnerable people. This included a £100,000 donation to LandAid, the property industry's youth homelessness charity; we were proud to be a founding supporter of their emergency fund at the start of the pandemic.

Beyond financial support, we've used our resources, skills, people and spaces to help our local communities during Covid-19. We've been able to continue many of our employment and education programmes virtually, closely supported by our volunteers and partners. Our volunteers have helped with everything from employability mentoring, to inspiring students about careers in property, to giving pro-bono advice to our charity partners. We have had to work innovatively, launching projects to ensure our impact continues to be socially sustainable and benefits the people who most need support. This included our virtual mentoring programme with the Cardinal Hume Centre, our charity partner in Victoria. Landsec mentors have worked over several months with individuals facing barriers to work, to build their skills, confidence and
motivation.
In London, our world-famous Piccadilly Lights became an important way for charities and public health bodies to run campaigns during lockdown. We were able to partner with a wide range of community organisations to raise awareness of important issues, including mental health, youth engagement and domestic abuse. We gave over £2m worth of free advertising space to registered charities on Piccadilly Lights this financial year.