We're committed to designing and managing our assets to enhance our customers' physical and mental wellbeing, and to support their productivity.
With staff costs typically accounting for about 90% of a company's overall operating costs, we know that investing in features that improve health and productivity of employees makes good business sense. Creating workspaces that positively influence our customers' physical and mental wellbeing remains a priority.
Health and wellbeing has been a central theme of our sustainability programme for a number of years, so we were well positioned to respond to the changes brought about by the pandemic. We've formalised our approach by registering and assessing our live development schemes against the WELL Building Standard. This was a natural step as we have embedded health and wellbeing principles into our projects for a number of years. In the past year, at Dashwood, we've also experimented with the WELL standard in our office products Blank Canvas, Customised and Myo, creating three wellness offerings to suit our customers' needs. For Blank Canvas, we are aiming to ensure any tenant can achieve a WELL Core certification if they wish. For Customised, we've created a specific WELL fit-out option for customers, including a handbook imparting the knowledge we have acquired over the years to help them fulfil their own wellness aspirations. For Myo, we are hoping to be the first flexible office space in the City to achieve full WELL certification.
This year we also committed to pursuing the WELL Portfolio Programme across our existing managed office portfolio, in addition to our new schemes. This will enable us to further improve the health and wellbeing of our customers by applying the 10 principles of the WELL Building Standard at scale. As part of this work stream we undertook an extensive review of our assets as well as our operational procedures which revealed a consistent level of quality. We will be testing our assets to establish their internal conditions and implement remedial measures where required to ensure the safety and wellness of our customers. We've also created a comprehensive health and wellbeing brief for our commercial development projects and we're doing the same for our mixed-use Urban Opportunities. These briefs set out the minimum requirements we expect our design teams to meet, ensuring we maintain the same level of quality and diligence across all our development activities, from apartment layouts and daylight, to the design of the public realm.
In retail, surveys tell us the interior environment is one of the most important factors in why our customers choose to visit. Creating the right conditions with the right mix of spaces is essential for creating an exciting and welcoming experience. We'll need to focus on lighting, indoor air quality, thermal comfort and acoustics, creating the right conditions for comfort. Designing for wellbeing is also about creating a great place to work, as well as to visit. This means designing comfortable space and amenities for retail staff as well as shoppers.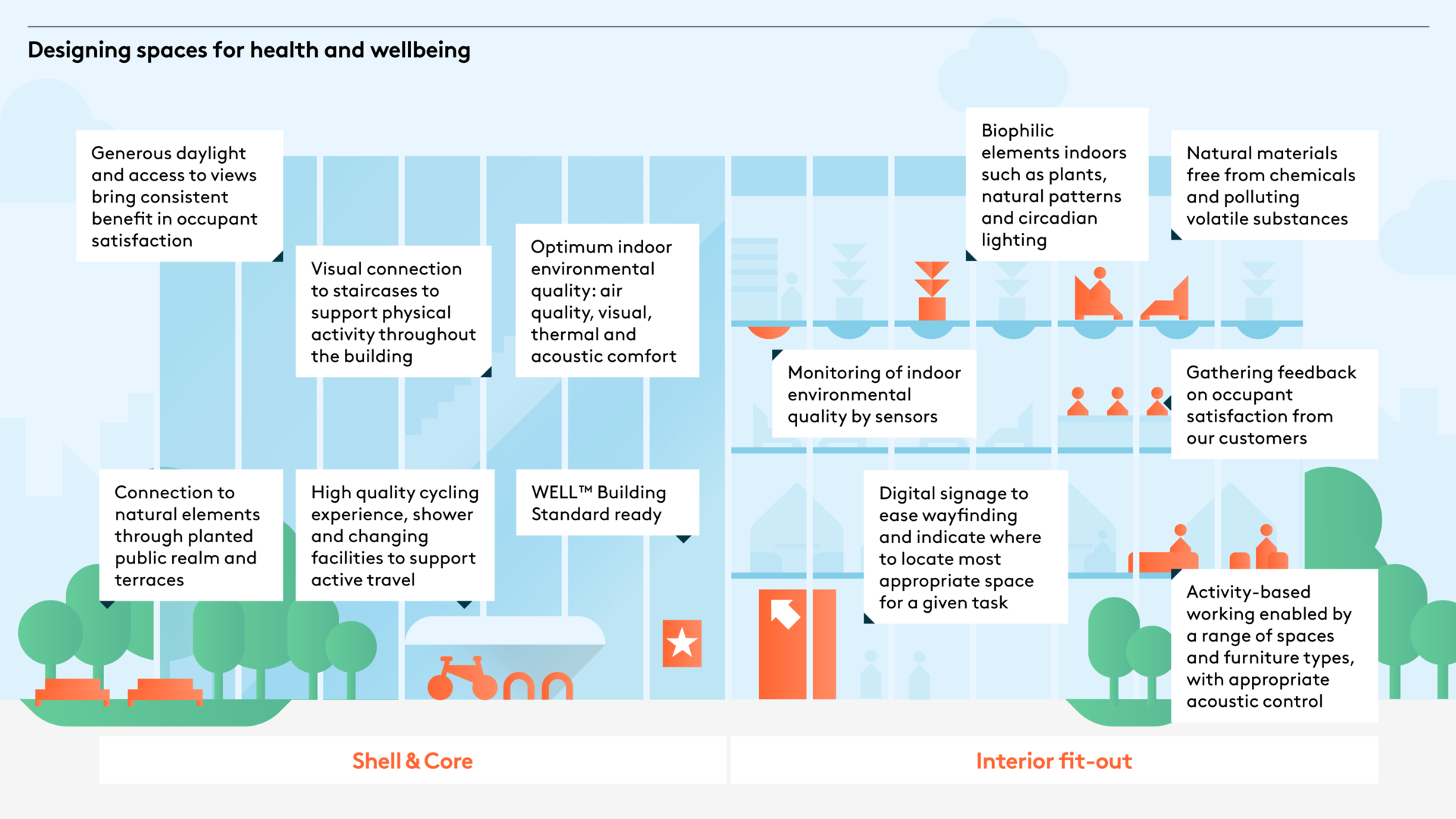 Our 100 Victoria Street workplace
Our award-winning workplace is designed for activity-based working and taught us the importance of designing for wellbeing and the effect it has on occupiers. We curated the physical space, workplace services and employee benefits to remove the barriers to an active, healthy and productive working day.
Promoting healthy lifestyles
Our employee benefits promote healthy lifestyles and include discounted gym membership, on-site yoga classes, free breakfasts and healthy snacks throughout the day
Our employees can chat with a GP through a new healthcare app, and we've trained mental health first aiders throughout the workplace
The workplace has an LED circadian lighting system which matches external light levels, and white noise machines to create a sense of privacy
The way we ventilate and clean our space is tightly controlled to keep the air free from chemicals.
Supporting activity-based working
Our new ways of working have increased productivity by giving our employees the tools and the spaces to do their job in the most appropriate way for the task at hand.
Our workplace has over 700 places to work from sit-stand and treadmill desks to quiet working booths and library spaces.