What we buy and where we buy it matters at every level of our supply chain - from the design team and main contractor to the operatives on site and our suppliers producing materials across the UK and abroad. To get it right, we take a thorough approach to sourcing sustainable materials.
We're committed to sourcing core construction products and materials responsibly. This includes environmental and ethical sourcing, health impacts, embodied carbon impacts and resource efficiency considerations. But supply chains in construction are often fragmented and transient. That's why we've developed clear guidelines.
Our guidelines for our developments are simple. Core construction materials including steel, concrete, hard landscaping and facades should always come with responsible sourcing certification. Where certification isn't available, we ask for evidence of basic health, safety and environmental management. And for every development we always target FSC Project Certification, to guarantee timber is from responsible sources.Across our development pipeline, we have early in-depth conversations with specialist contractors, to be able to influence design and specification, and we request information from suppliers to improve transparency in our decision making. 
At 21 Moorfields, we're buying 99.9% of our core construction materials from responsible sources. Steel, in particular, is of paramount importance for the building, given its prominence in the design. This is why we're asking our specialist contractor to get detailed information from their own suppliers about the sustainability of their products – matters such as method of fabrication, recycled content and distance travelled, alongside the necessary responsible sourcing accreditation. From this information, we rate our preferred suppliers, and factor this rating, alongside cost and lead-time, into the decisions we make when placing orders.
 What's on the surface matters too, and for our material finishes we're recommending we select, wherever possible, natural low-carbon materials that can be sourced locally. At Nova East, the proposed palette includes extensive areas of carbon-negative materials such as cork and timber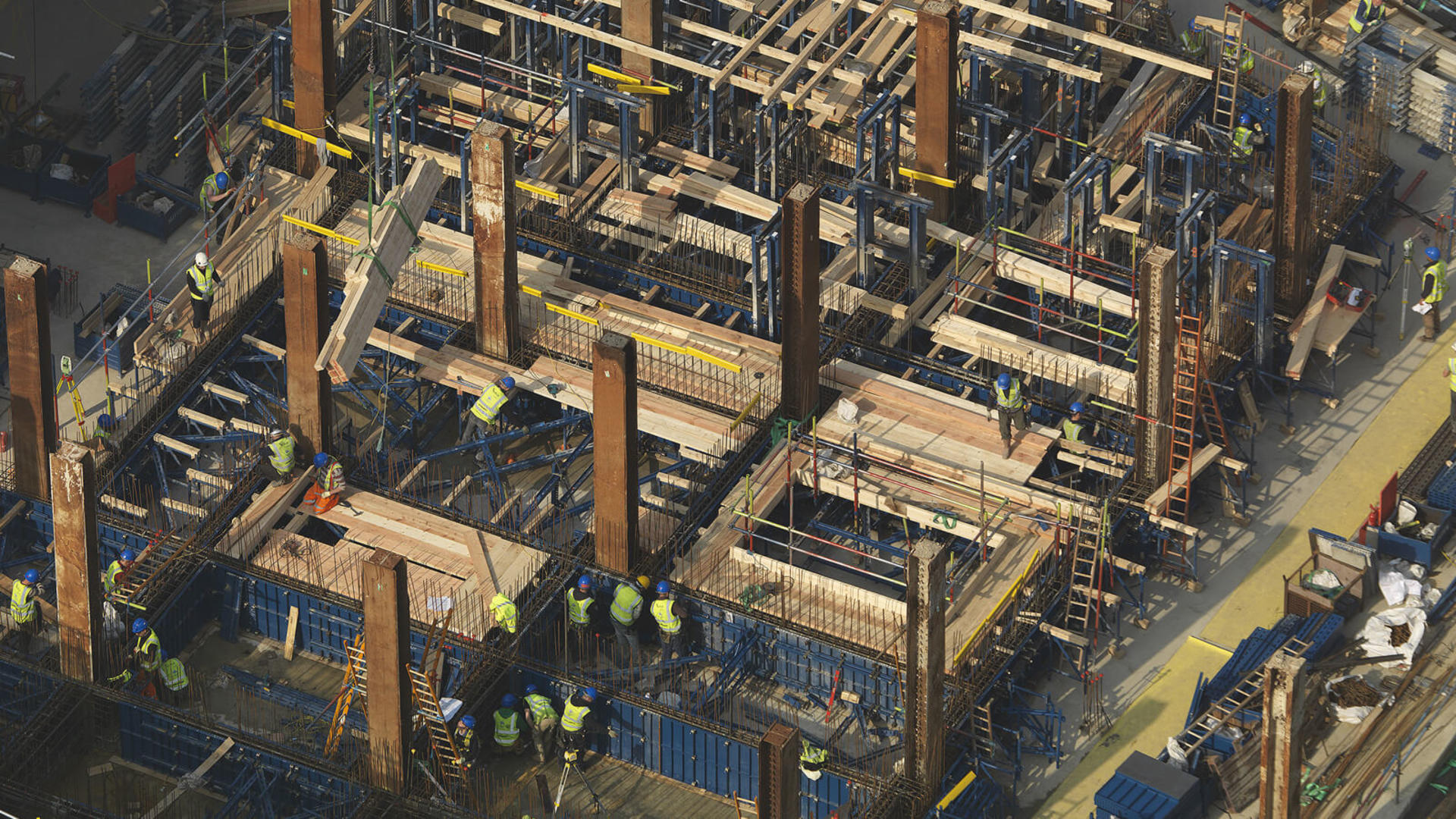 Reducing carbon emissions 

To meet our carbon target, we're also addressing supply chain emissions by specifying materials with recycled content, concrete with cement replacement, metals with low carbon emissions from their manufacturing process, and source heavy materials like stone locally. Other factors like cost, availability and lead in time are equally important, but we need carbon to be considered for every material choice if we want to reduce our supply chain emissions.
At Portland House, the embodied carbon intensity of our proposed repositioning is about a third of that of a new development, which means we're able to create a high-quality space with less carbon emissions. We set embodied carbon targets for all our major developments and assess them through a recognised methodology, to understand where to focus our efforts for maximum impact.
The first step is to simplify our designs to limit the cost of materials. Buying fewer materials is the best way to reduce carbon. For instance, at Lucent W1, we're reducing embodied carbon by 20% by designing the structure to be leaner and simpler to build, alongside specifying low-carbon materials. This will save materials and programme costs. We're also adopting modern methods of construction, such as a platform approach to design for manufacture and assembly, reducing the construction time, waste and cost. At Sumner Street, this approach achieves a reduction of over 19% in embodied carbon compared to traditional construction methods. 
We then focus on the properties of the materials we specify and procure (alongside cost and availability), to adopt low-carbon alternatives wherever possible. This means careful analysis and selection of every raw material we use. Our aim is to avoid materials with a high-carbon intensity such as traditional steel and concrete. We replace them with materials that have a high recycled content, an inherently low-carbon profile, such as engineered timber, or that are sourced locally. 
Examples from our current development pipeline include Lavington Street which is designed around the partial retention of the existing structure on-site complemented by a hybrid steel and timber structure. The result is embodied carbon emissions associated with the structure are reduced by about 50% compared to a typical office, and timber elements avoid 15,000 tonnes of carbon compared to traditional construction.
Our Prohibited Materials List
The Global Slavery Index shows that certain countries have a substantial risk of slavery in manufacturing. So, when our designers specify materials or our contractors buy materials from outside the EU, we will engage with the supplier to ensure our expectations are met. Sometimes this will be in the form of an assessment, where we check suppliers against fair pay and labour standards using tools like SEDEX, EcoVardis and SA8000.
With our growing development pipeline, we've taken a closer look at our procurement policies to equip ourselves and our partners with the right tools for meeting our expectations. 
That's why this year we've published our new Prohibited Materials List, to strengthen our fight against modern slavery in the sourcing of construction materials. The list is based on the Walkfree Global Slavery Index and on the Ethical Trading Initiative, to enable us to assess materials and geographical areas at risk, and promote sourcing of responsible materials. 
We're laying out our expectations from our partners clearly, so we can address human rights challenges within the industry and discuss how we'll work together to increase transparency and minimise risk. Our Prohibited Materials List complements our Sustainability Brief for Developments.
 
| We prefer | We want to avoid |
| --- | --- |
| High recycled content and post-consumer reclaimed materials | Virgin aggregates |
| Cement replacement products, like GGBS and PFA | Anodised metals |
| Rapidly renewable materials like timber | Crude oil-derived products |
| Steel produced in electric arc furnace | Steel produced in traditional furnaces |
| Regional materials, sourced within a 300-mile radius | Stone and heavy materials manufactured outside the EU |