As well as being home to one of the most famous universities in the world, Oxford is a vibrant city of industry, commerce and culture. However, the evolution of its retail offering had been hampered over previous decades by the medieval street layout, its historic buildings and diverse land ownership.

Our development delivered a ground-breaking shopping centre in the heart of Oxford that transformed the experience and complements the city's outstanding architectural heritage.
An Oxford prospect
Although developing in a city as beautiful and historic as Oxford was a challenge, the catchment area around the city had long offered the perfect opportunity for the development of a new centre.

In addition to 30,000 students, the city is home to more than 200,000 residents with a further 130,000 across the wider metropolitan area, and welcomes 9.5 million tourists annually.
Steel used in the building frames
5,525
Earth removed to create two-storey basement
54,014
Length of tower cranes laid end to end
96
Annual spend at Westgate is £200 million, making Westgate a firm competitor. With only one other shopping centre in the city centre, Westgate has been a popular leisure and shopping destination since it opened.
Food, flagship stores and a fantastic finished product
The centre has brought new public spaces to Oxford, as well as a curated mix of retail stores, boutiques and leisure outlets.

These were arranged to create distinct areas, ranging from affordable luxury to the best of the high street. There is also a much-loved John Lewis store.
Oxford's leisure scene got a boost from a new five-screen boutique Curzon cinema, as well as 12 restaurants and bars on the beautiful roof terrace, near an aromatic kitchen garden. On the ground level, Westgate Social houses four very different independent food outlets, taking inspiration from the Trinity Kitchen in Leeds and making it relevant to Oxford.
We know from experience the benefits of creating foodie destinations and championing small businesses in this way. Our communities around Leeds, Glasgow and our mixed-use Nova development in London's Victoria are also enjoying the culinary experiences we've served up.
Westgate also excels where local community and charitable donations are concerned, with partnerships with local non-profits, Oxford Homeless Pathways and Aspire. The Westgate Alliance provides donations and works closely with them to help get homeless people back into work and off the streets.
An architectural test
The benefits that Westgate brings to the city may be clear, but its location presented us with a unique design challenge.

We wanted to embody Oxford's distinctive architecture and heritage so four different architects were responsible for distinct blocks of the scheme– and we encouraged them to draw inspiration from the surrounding area. They all worked closely with our master planners, BDP, who evolved the initial core concept design for the scheme.

Glenn Howells Architects was influenced by the Bodleian Library, while Panter Hudspith Architects took its inspiration from typical Oxfordian architectural features such as the impressive colonnades. Allies and Morrison drew on the evocative oak panelling in several college dining rooms and Dixon Jones, responsible for the Bonn Square façade, looked to Campion Hall on nearby Brewer Street.
We also wanted to improve the sense of community in Oxford city centre. Many of the public spaces are inaccessible historic college quads, so we created a variety of new streets and two major public squares where people can enjoy events all year round.
Westgate Oxford opens
A view of the famous spires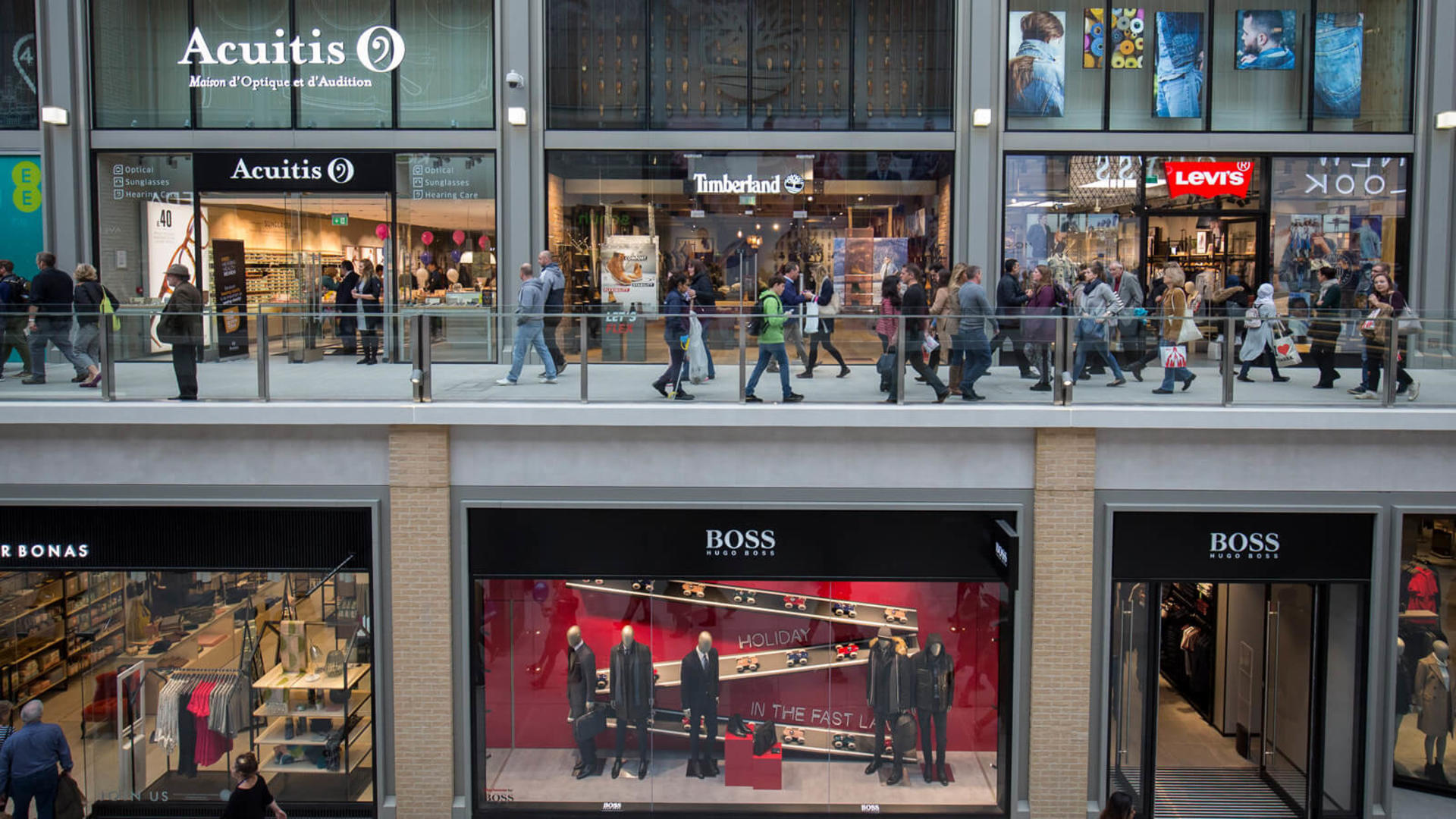 Westgate Oxford opens
Famous brands at Westgate Oxford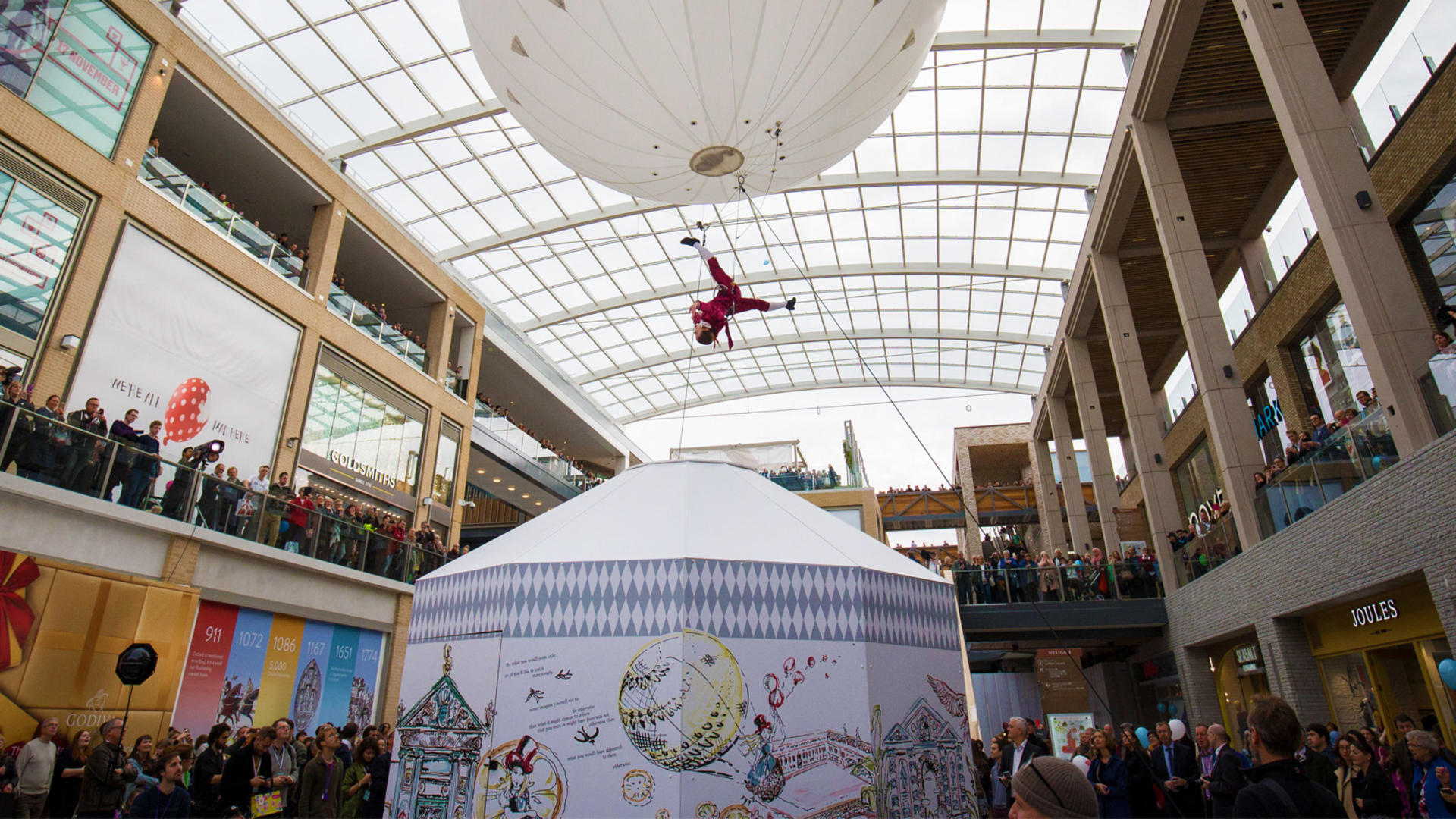 Westgate Oxford opens
Heliosphere at Westgate Oxford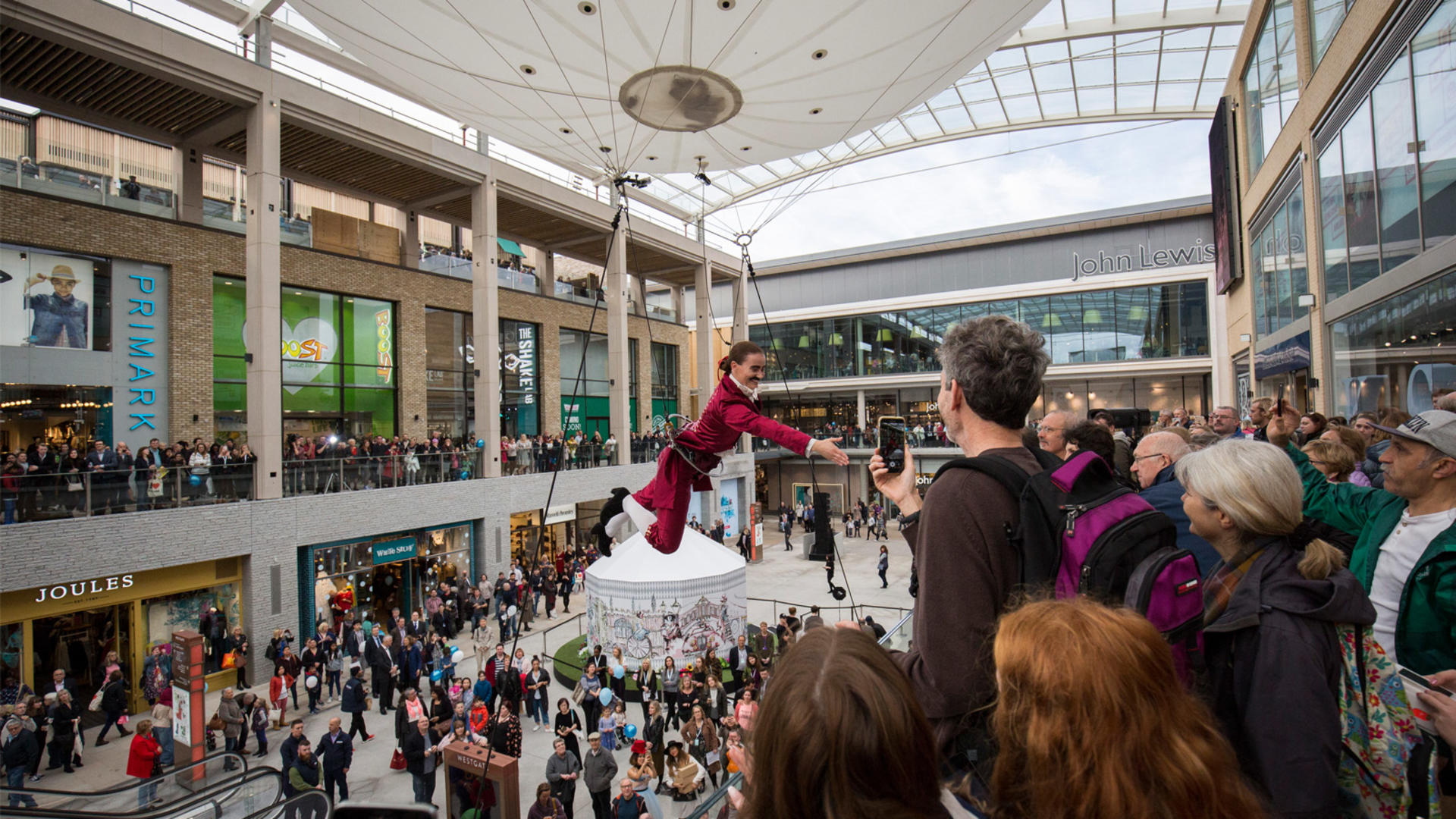 Westgate Oxford opens
Thousands came to visit on opening day
Responsible building from the start
Westgate Oxford - developed in a joint venture with The Crown Estate - is one of the lowest carbon retail destinations in the country. We've cut emissions by installing one of the largest examples of centralised air source heating of its kind in the UK. Using this technology to deliver heating and cooling to shops and restaurants avoids the use of natural gas, keeps costs down for retailers and reduces our reliance on fossil fuels.
To coincide with the launch of Westgate, we released our total impact report 'Inspiring Change', showing the huge social and economic value created by the development. Delivering Westgate has created £738m of gross economic value in the economy, contributed £4.3m to improving local infrastructure and will create 3,500 full-time-equivalent retail jobs, through a community employment programme targeted at those furthest from the jobs market in Oxfordshire.
Westgate will complement the history of the city with [a] 21st-century quarter that provides a massive boost to our retail and visitor economy."

Leader, Oxford City Council
In a city whose reputation is founded on world-class thinking and research, we're excited to deliver the UK's most forward-thinking shopping centre and a world-class retail experience to Oxford's residents and visitors alike.
Downloads
£100m - £150m
Market value range
Press releases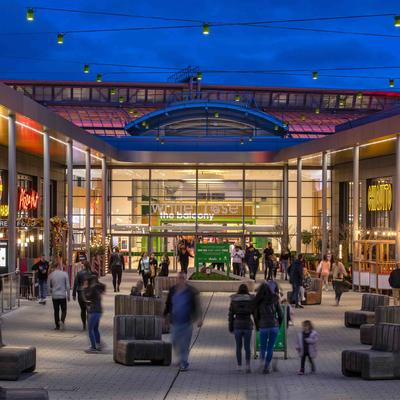 Next