We're constantly looking for innovative ways to engage customers and consumers to reduce waste, helping to reduce our consumption of resources whilst reducing operational costs.
We're committed to sending zero operational waste to landfill and recycling at least 75% of waste from our operational and construction activities by 2020. We continue to divert 100% of waste from landfill and are close to meeting our recycling target, reaching 73% in 2019/20.
Updating our commitments
As managing waste responsibly becomes an increasingly important issue, we have expanded our waste management commitments to cover both operational and construction activities with demanding targets for re-use and reduction. We will also continue to work with employees and customers to reduce waste through targeted campaigns and incentives across the business.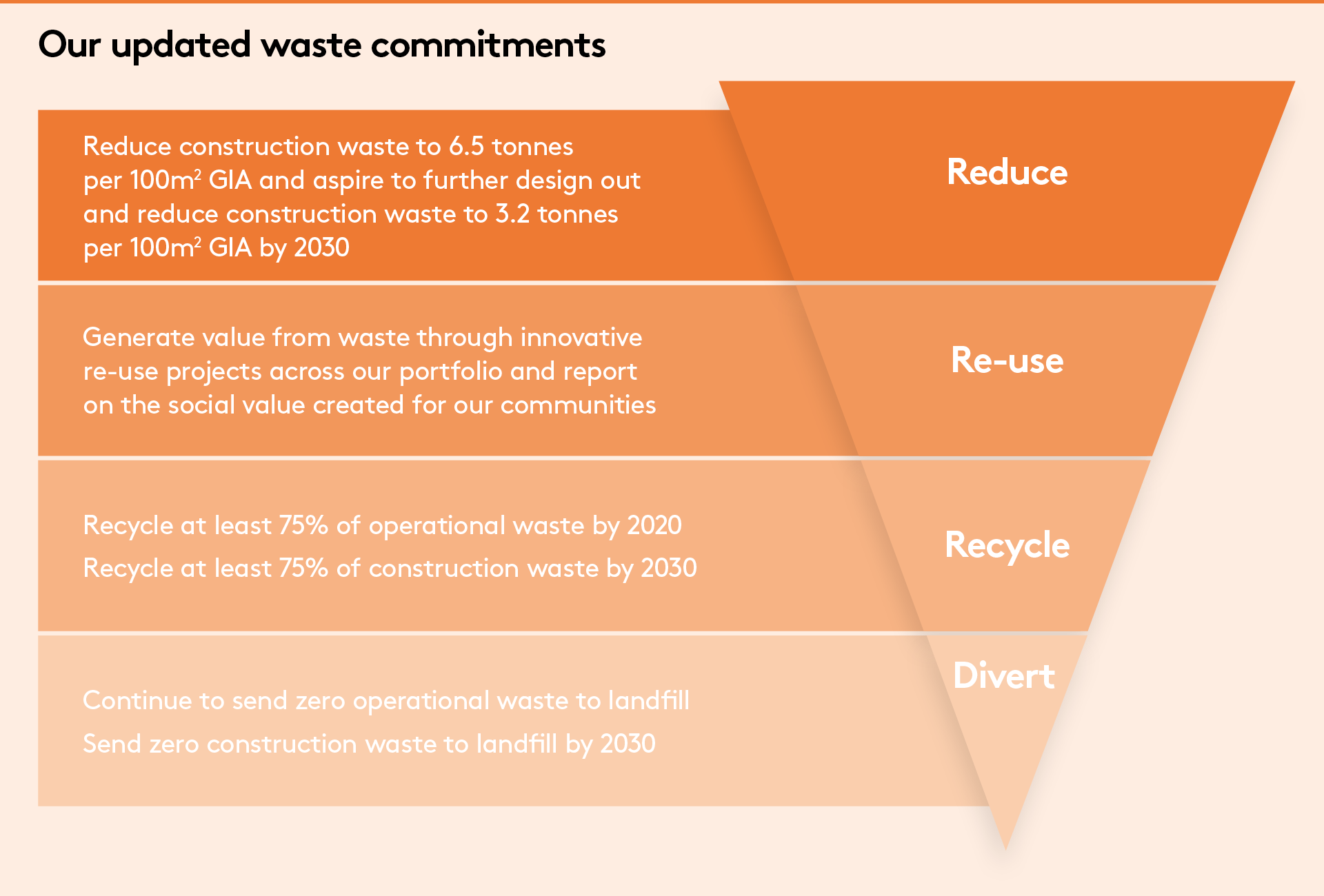 What we've achieved

Coffee cup recycling
We've also been trialling coffee cup recycling campaigns at Gunwharf Quays and Bluewater, working with our customers and supply chain partners to find a solution for this notoriously hard-to-recycle product. We'll be sharing what we learn across all Landsec destinations and the wider industry.

Reducing single use plastic
In 2018 we launched our 'Refill Me' campaign to help tackle the issue of single-use plastics. The campaign allows guests at our centres to request a free refill of water, in their own bottles, from brand partners without an obligation to make a purchase. Not only does this encourage people to refill reusable bottles, but also provides an opportunity for our brand partners to engage with our guests on sustainability and demonstrate that they are a responsible company.
Brand partners who sign up display a refill me sticker in their shopfront with animated digital signage and digital logos available for centres to advertise the campaign to guests. Over 130 brand partners are now signed up across 23 of our assets. Customers involved include Pret A Manger, Itsu, Krispy Kreme, Costa, Pho, Nando's, Hotel Chocolat and Godiva.
We continue to support our customers in reducing single use plastic by partnering with Ape2o and installing two of their filtered water dispensers within the public area of our One New Change and New Street Square sites. The machines allow the public to refill their own water bottles with chilled and sparkling water and since September 2019 have dispensed the equivalent of over 21,000 plastic bottles.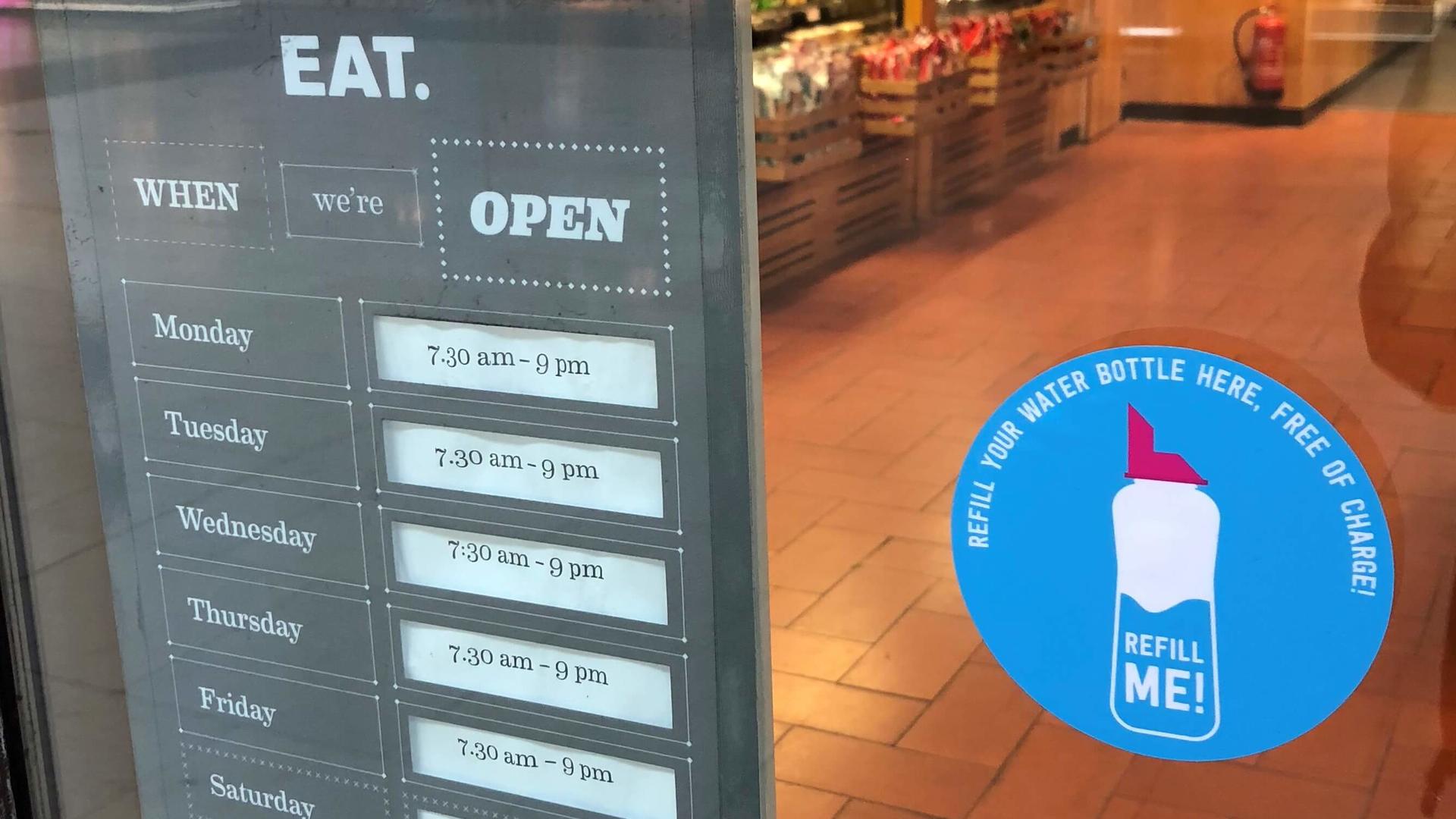 Reducing food waste
Three of our retail sites – including Westgate Oxford, – use eco food digesters, which use the process of aerobic digestion to break down up to one tonne of food waste a day into wastewater. This process not only ensures no food waste is taken to landfill, but it also contributes to a reduction in CO2 emissions by reducing the number of waste vehicles travelling to our centres.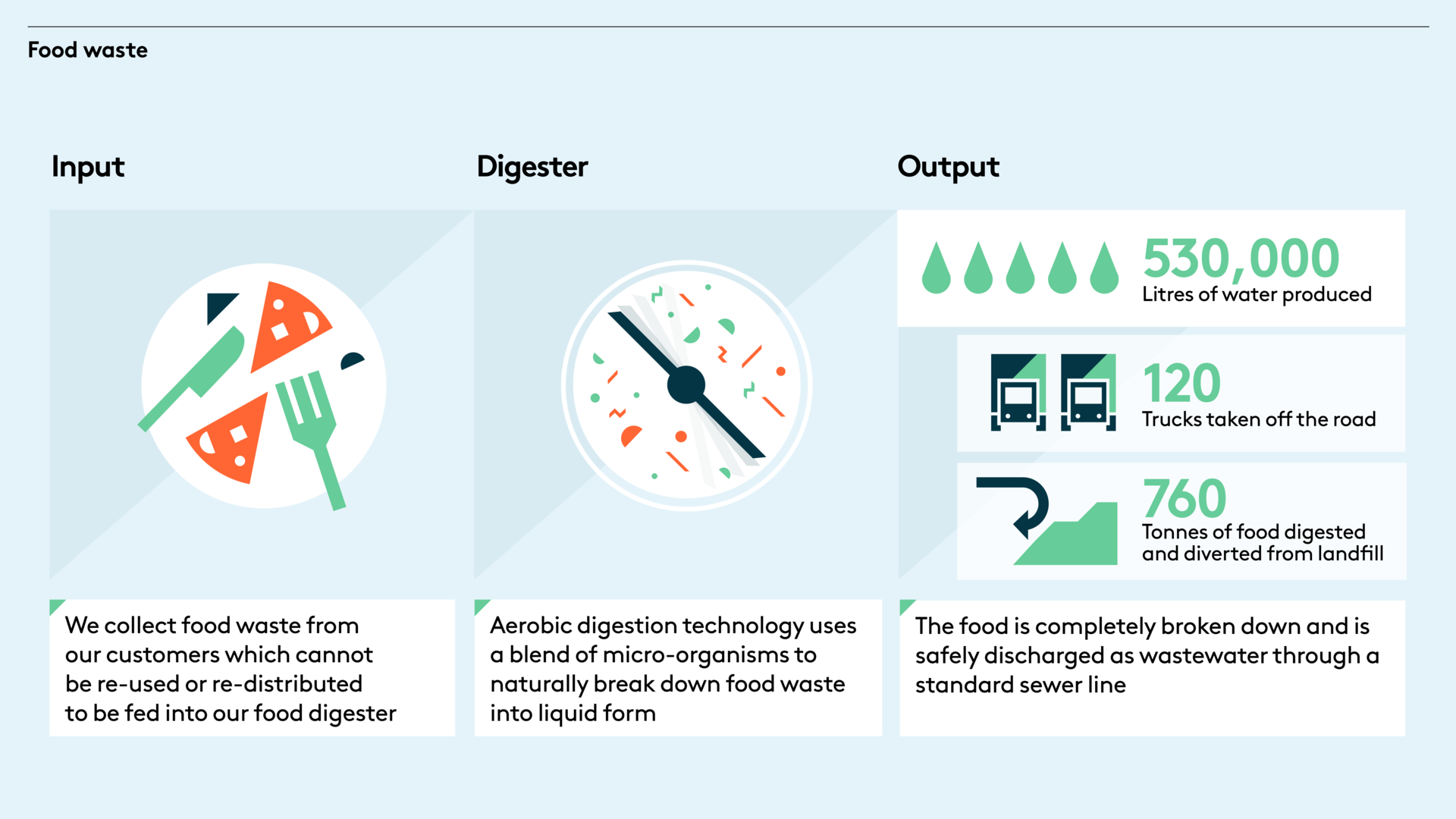 Tackling textile waste
Fashion and textile waste is an emerging and increasingly high-profile problem. We aim to show that action can be taken to protect the environment without placing retailers under financial strain. We're responding to calls from the government to place a levy on fashion items by mobilising an alternative plan focused on collaboration rather than taxation.
Our first response to the textiles issue was a trial scheme, 'spring clean, think green', launched in March 2019 at Westgate. During that time, we invited guests to drop-off used clothes and shoes for recycling, gave them information on the possibilities created by recycling and incentivised them through competitions. Following this trial, we're planning to roll out textile recycling to other destinations.